Our Services
Advantous uniquely provides customizable end-to-end solutions that range from turnkey compliance services to high-level planning and advisory consulting. Our team of professionals brings cross-industry depth and experience, resources, and the technical expertise to protect and enhance your bottom line.
Sales & Use Tax
As a premier sales and use tax consulting firm, we are focused on helping companies navigate unique and complex sales and use tax environments. Our talented team of professionals puts our extensive knowledge to work to handle all sales and use tax issues, including reverse audits, audit defense, and multi-state appeals and disputes
Appeals & Disputes
Advantous' team of tax professionals have secured advantageous results for our clients before an array of taxing authorities and administrative bodies. As Advantous advises clients from a wide variety of industries and in all aspects of tax compliance and planning, we are a market leader in handling formal appeals and disputes of all tax types.
Business Incentives
We assist companies with identifying, negotiating, and complying with various federal, state, and local incentive programs available. Whether a job creation programs, property tax abatement, cooperative endeavor agreements, or many others across various states, our experience in delivering bottom-line benefits is unmatched.
Property Tax
Our property tax experts have over decades of experience in assisting clients with a wide variety of property tax matters. In the ever-changing business environment, our team works with state and local officials to help our clients negotiate equitable, fair assessments and valuations.
Income & Franchise Tax
 Companies must navigate through a complex state and local tax landscape. Aggressive tax enforcement as well as tax laws and policies that are sometimes "fluid" in nature present challenges to businesses in a wide array of industries consistently achieving and maintaining income tax compliance. 

Additional Services
Our services extend well beyond those listed here.
We also utilize key relationships at the federal, state, and local levels of government with extensive experience advocating on behalf of business and industry.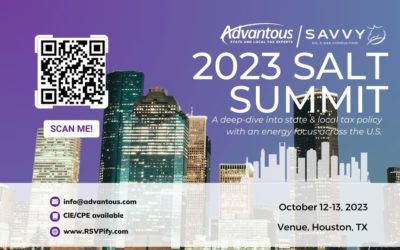 Advantous Consulting and Savvy Oil & Gas Consulting proudly announce their collaboration on the highly anticipated 2023 SALT Summit. This seminar is scheduled to take place at The Whitehall in Houston, TX, on October 16-17, 2023. Now entering its third year, this...
Mark your calendars! Advantous will be hosting a 2023 Legislative Session Tax Recap Webinar on Tuesday, June 20th at 10 am CST. Advantous Co-Owner & Partner, Jason DeCuir, will join our team of state & local tax experts will be breaking down the tax measures that have moved through this year's fiscal session.
Louisiana's House Ways and Means Sub-Committee on State Tax Structure recently convened to review the state's income, franchise, and sales tax structures. The group which is chaired by Representative Phillip DeVillier (R-41) is tasked through HR178 (2021 RS) to study...